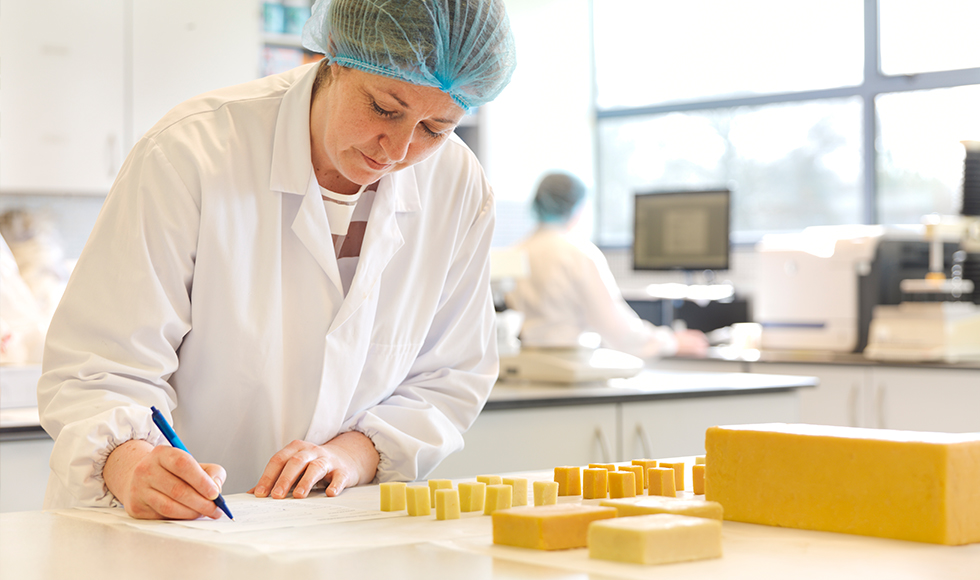 Cheese Innovation
The art, innovation and science of cheesemaking
Research and Development is at the very heart of what we do. We have over 50 years of cheese innovation expertise.
Our innovation programme focuses on four key areas:
Flavour innovation
Functionality
Culture technology
Process innovation
Our innovation program focuses on developing cheese with a variety of taste profiles, suitable for various markets and consumer preferences. We understand the different taste profiles required for markets around the world and work closely with our customers to understand and deliver on their specific requirements.
Carbery's cheese scientists can design bespoke recipes that produce cheese with specific flavour profiles such as milky, buttery, creamy, savoury, sharp, bitter, sweet, fruity, nutty, caramel and umami.
We understand the complexity of flavours present in cheese and work closely with sensory scientists to profile and understand the different profiles within our cheese range, ensuring we meet customers taste requirements.
Flavour is mostly controlled by the enzymatic activity within the cheese. Our cheese scientists adjust many aspects of the cheese recipe such as the rennet, type of starter culture, target chemical composition, cheesemaking technology, pH and maturation conditions to produce the desired flavour profile.
When developing different flavour profiles, we seek to understand the final application and how the consumer is using our cheese. There are various factors that can affect the flavour profile of the cheese, for example, heating cheese can change the flavour profile. Some cheese flavour profiles can change even while being consumed and we use dynamic sensory testing like TCATA (Temporal Check All That Apply) to understand this.
Flavour profile of a Mild versus Sweet Mature Cheddar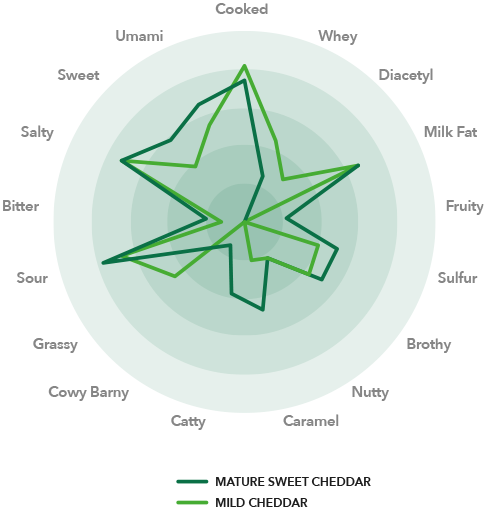 Functionality comparison between Mozzarella and Mild Cheddar
We're focused on ensuring our cheeses not only taste great but also make life easier for the final customer. The functional requirements will depend on how the cheese will be used: sliceability may be the most important functional characteristic for a retail cheese compared to flowability if the cheese is to be used as an ingredient in a prepared meal.
Functional performance can be impacted by how the cheese is made, the chemical composition, maturation and storage conditions, all of which can change the texture and microstructure.
Rheological tests can measure the functional properties of different cheeses. When it comes to cold cheese we measure hardness, stickiness, adhesiveness, cohesiveness, resilience, fracturability and springiness. Once cheese is heated, parameters such as flowability, melt rate, oiling off, stretchability and elasticity are more relevant.
The graph highlights the functional difference between two different cheeses, demonstrating that mozzarella is a much more functional cheese than cheddar, displaying superior shredding and slicing properties.
We have almost 50 years of expertise in developing cheese culture technology and we pride ourselves on our unique collection of microbial cultures. We cultivate and grow our own cultures onsite in a state-of-the -art facility, giving us the flexibility to tailor our cheeses to specific taste and functionality requirements.
To produce our award-winning cheese, we use unique combinations of cultures:
Starter Cultures are bacterial mixes that acidify the milk and begin the cheesemaking process.
Adjunct Cultures deliver specific flavour profiles.
We work with external research partners to deploy DNA sequencing and genetic screening technologies to develop the next generation of Carbery Dairy Cultures. This scientific approach is used to sequence, screen and expand our culture library, enabling us to tailor the mix of starter cultures and adjunct cultures we use for each cheese recipe.
We're proud of our investment in state-of-the-art cheesemaking facilities and process innovation.
Our cheese manufacturing facility is custom built to give us the unique capability to create specific recipes to meet our customers' needs around the world.
Our Cheese Diversification Project, completed in 2020, not only increased our production capacity but diversified our product offering, adding Pasta Filata cheese to the range.
But process innovation isn't just about investment in processing equipment alone. We are continually investing in technology and software and capturing information throughout the production process, from milk collection and pasteurization to manufacturing pH, temperatures and time. We apply data analytics to all of the data collected to better understand how processing parameters affect the characteristics of the finished cheese so we can continue to optimise our recipes and processes.
When you partner with us you have access to our experts in cheese research and development, along with experienced cheese makers and graders, culinary experts and marketing support to help accelerate your product development process and ensure a successful launch.
Linda Tanner
Cheese Research and Development Manager