Sustainable Dairy
Sustainably producing the highest quality cheese
Our Farmers are our Shareholders
We're a co-operative with a responsibility to the farmers and communities of West Cork, both now and into the future. We return value to our farmers via the price we pay for the milk they produce and encourage sustainable farming practices so that farms are handed down from generation to generation.
Our success is dependent on our respect for our environment and the communities in which we operate. We have over 1,200 milk suppliers, all close to our processing plant in Ballineen.
Learn more about the Carbery farmers
We work in partnership with our farmer suppliers to explore positive ways to make dairy farming more environmentally sustainable.
Through our work on the Farm Zero C Project, we aim to demonstrate that a climate-neutral dairy farm is possible.
Our Carbery Greener Dairy Farms™ programme provides support to help our farmer suppliers to reduce energy use and carbon emissions.
We also support our farmers to protect and enhance the biodiversity on their land, reduce on-farm risks to water courses and support animal health and welfare.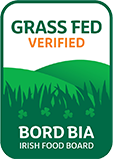 Verified Grass Fed, for Quality you can Rely on
Carbery's cheese is made with milk from Grass Fed cows.
Our outdoor grazing, extensive grass-based farming system provides us with the perfect environment for sustainable dairy farming. Influenced by the Gulf Stream, our mild temperate climate, plentiful rainfall, and rich deep soils give us the longest grass growing season in the Northern Hemisphere, with cows outdoors for up to 300 days each year.
Our cheese is made with milk that is 95% grass fed on a fresh weight basis, as independently verified by Bord Bia, the Irish Food Board, ensuring the sustainability and quality our consumers expect.
Sustainability Ambitions and Achievements
Sustainability and social responsibility are central to our business mode. We process 600 million litres of milk a year from our shareholder farms and produce cheese year-round in our bespoke, state-of-the-art manufacturing facilities. This combination of high quality milk with cheesemaking expertise means our customers can rely on us for sustainable supply.