Market Focus
We want to share our love of cheese with the world. We're constantly researching food trends from around the world, imagining new dishes with a global twist and anticipating what tastes will inspire and excite today's consumer tomorrow.
Global Cheese Solutions
With a rich heritage in cheesemaking, a passion for innovation and dedication to culinary excellence we are uniquely positioned to develop solutions that meet our customers' needs.
See Featured Application
See Featured Application
Pizza
A delicious pizza requires the perfect cheese. Pizza makers around the world value high quality mozzarella with excellent melting and stretching properties. A soft creamy mouthfeel with a mellow dairy flavour is essential for pizza cheese.
Stronger flavour cheeses, such as Cheese Extra or Italian Style, can be blended with mozzarella to give that extra cheesy taste.
Cheese solutions with stronger flavour can be blended with mozzarella to give that extra cheesy taste.
Chef's comment
Carbery Dairy Mozzarella produces a typical browning coverage of under 20%. It has a soft chew that disappears quickly in the mouth and produces a soft creamy mouthfeel.
The flavour is deliciously mild, creamy, and typical of a good mozzarella.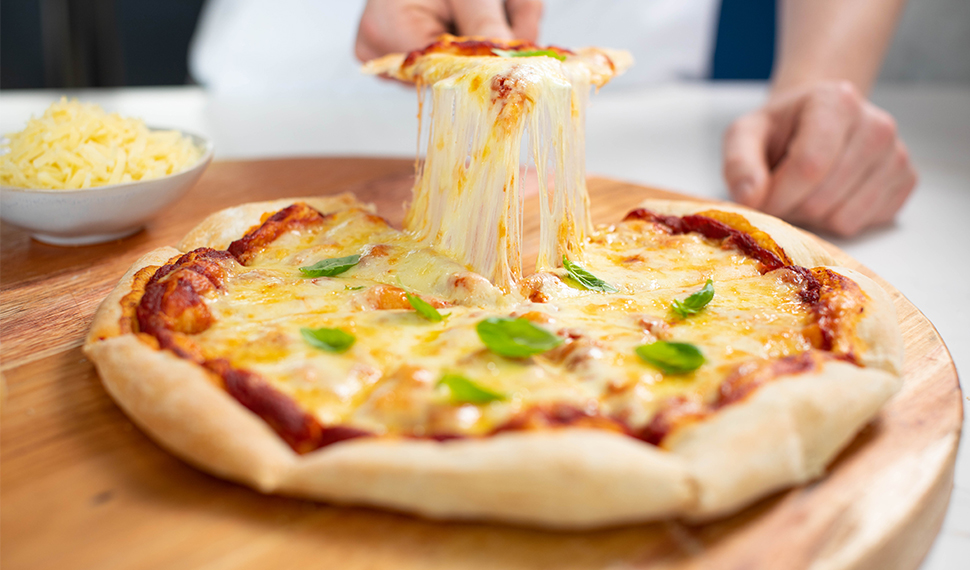 Find out more about our Mozzarella
Table Cheese
Consumers' taste preferences vary across the globe. Cheese is a versatile product and meets a variety of consumer needs whether they are looking for an indulgent treat, a healthy snack or a little bit of experimentation.
Chef's comment
Carbery offers a wide choice of flavour profiles to suit the broadest range of consumer tastes and market preferences. Each is characterised by a rich, creamy dairy taste that is distinct to Carbery. Our mature and vintage cheddars are appreciated by cheese lovers all around the world.
Find out more about our Natural Cheddar range
Bakery
The functionality of cheese in bakery is of the utmost importance. Common challenges are loss of shape, oil off from the cheese or excessive browning, which can all affect the taste, texture, and structure of the final baked product. We have developed specific solutions that address these challenges as well as delivering a variety of flavour profiles.
Our cheese solutions have been developed and tested for breads, croissants, cakes, and biscuits.
Chef's comment
In bakery applications, Cheese Extra has many functional and flavour benefits, including a more intense savoury note, more umami flavours, while functionally it is more heat stable with much lower oil out levels.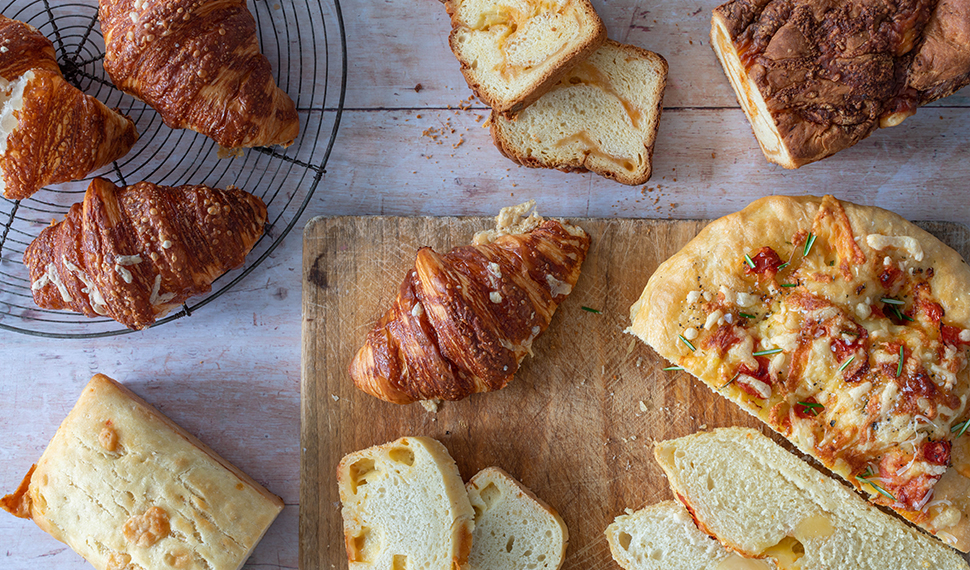 Find out more about our Cheese Extra range
Burgers and Sandwiches
The melting performance and flavour of a cheese for burgers and sandwiches is vital. Flavoured options for burgers and sandwiches can offer customers a chance for experimentation and customization.
Chef's comment
The aging of the Carbery Dairy Black Pepper Cheese gives it a very unique taste and aroma. It pairs perfectly with beef burgers or cheese steaks while the Fajita Spice Cheese brings a global flavour to salads, sandwiches, or burgers.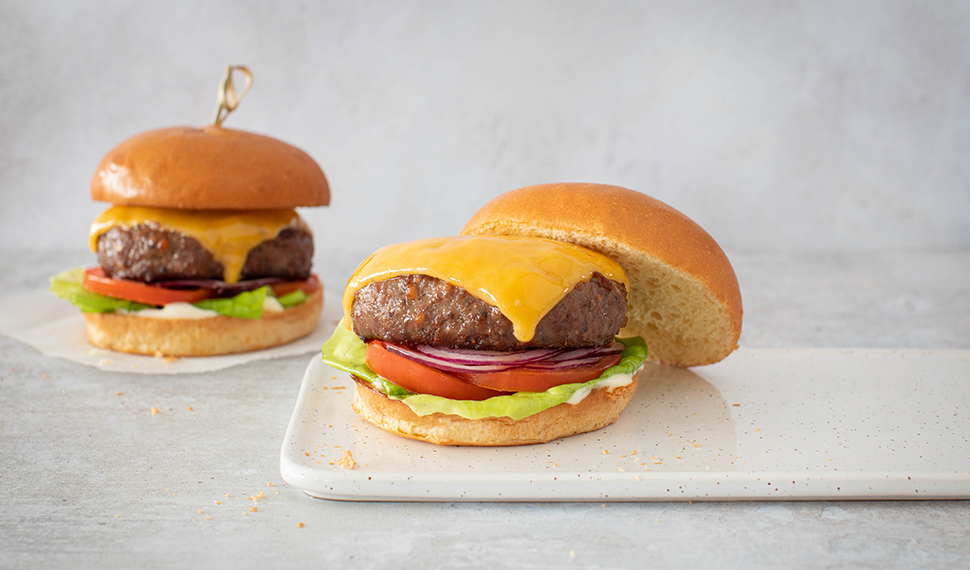 Find out more about our Inclusion Cheese range
Prepared Meals
When it comes to meals and sauces, delivering that cheesy taste is key. A rich and creamy taste gives prepared meals, sauces, or ready meals that premium feel. With a growing emphasis on the nutritional content of prepared foods and the need for manufacturers to comply with new regulations, delivering this taste experience without the calorie or fat content has never been more important.
Chef's comment
Cheese Extra is an ideal 'best of both worlds' solution in terms of maintaining a fuller fat taste with deep savoury notes while offering an excellent level of structural strength, with lower calories and reduced fat levels.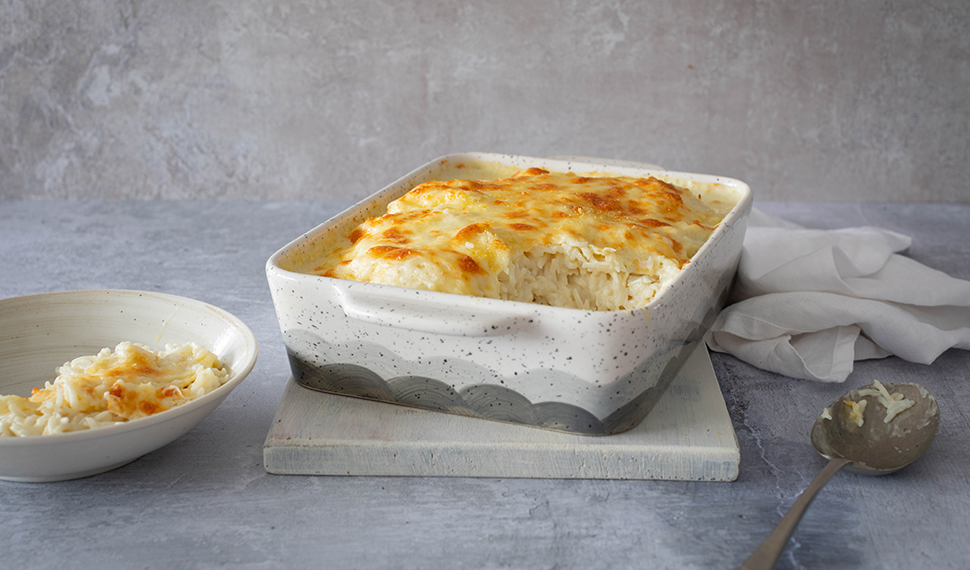 Find out more about our Cheese Extra range
When you partner with us you have access to our experts in cheese research and development, along with experienced cheese makers and graders, culinary experts and marketing support to help –accelerate your product development process and ensure a successful launch.
Owen Murtagh
Culinary Specialist
A Leading International Sustainable Business