Optipep® 4Power
Hydrolysed whey protein for high intensity training

The science of training for performance is constantly evolving. Athletes across a broad range of sports and activities are increasingly building High Intensity Interval Workouts (HIIT) into their training routines.
Our nutritional solutions are evolving too

Optipep® 4Power is a hydrolysed whey protein that, when taken before a high-intensity workout, helps athletes produce and sustain more power compared to whey protein concentrate. This is a potential game-changer for brands providing targeted nutritional solutions to consumers participating in sports such as CrossFit, field sports, sprinting and combat sports.
The Science Comes First
With more athletes embracing HIIT type workouts, we identified an opportunity to provide targeted nutritional solutions to help them meet their performance goals.
We commissioned a clinical study to investigate the metabolic and performance effects of differing nutritional strategies for this type of workout.
Benefits & Features
Hydrolysed Whey Protein Isolate for faster absorption
Optimised peptide profile for enhanced bioactivity
Superior protein source developed for pre-workout consumption
Clinically proven to improve metabolic adaptation and performance when consumed pre-exercise
Made from milk from grass fed cows and suitable for vegetarians
Key Insights
Impact on muscle metabolism – Mitochondrial gene expression and enzymatic activity
Pre-trial product design using bioinformatics screening tools and in vitro evidence
Critical characteristics and composition of Optipep® 4Power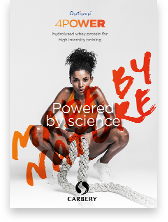 BrochureDownload
Download our 4POWER brochure to find out more now.
Download
WhitepaperDownload
Download our whitepaper on the evolving role of protein pre-exercise
Download
Our experts in protein research, process technology, applications, and marketing are here to support, accelerate and optimise your product development to position you for a successful launch.
A Leading International Sustainable Business