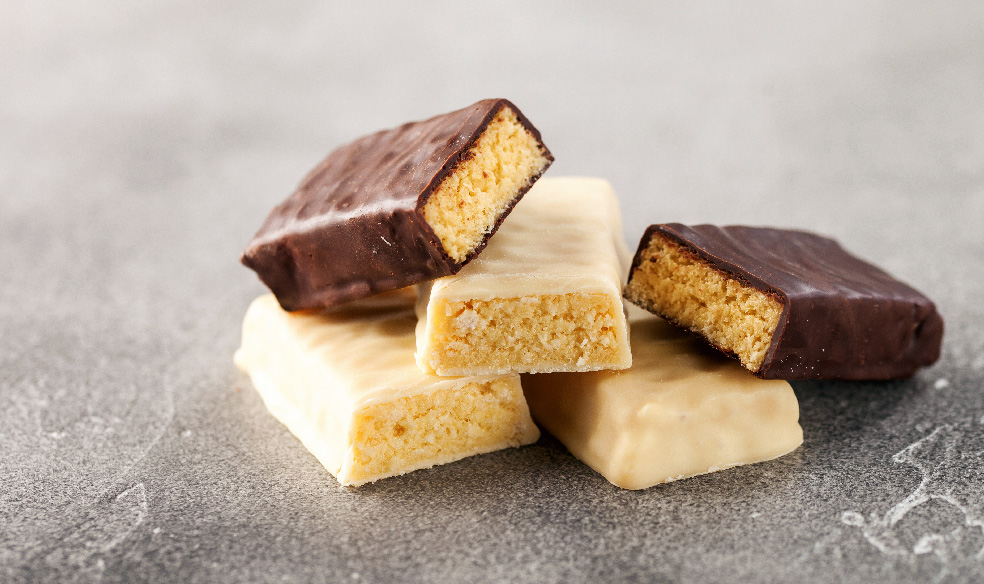 Optipep® 4Bars
Maintains softness and improves texture in bars over shelf life

Optipep® 4BARS helps maintain softness and improves texture in bars over shelf life. Optipep® 4BARS is lightly hydrolysed, offering a low bitter flavour profile and has been developed specifically for use in protein bars.
Greater shelf life, outstanding soft texture & excellent taste in protein bars
We recently surveyed key bar manufacturers and revealed the following industry challenges in high protein bars….
Unwrapping the solution: Discover Optipep® 4BARS
Many bar manufacturers are faced with using non-vegetarian protein sources to deliver a soft texture in their bars over shelf life. But with more and more consumers following vegetarian diets or seeking more natural products, this is an increasingly unappealing solution. 
Sourced from grass-fed cows, Optipep® 4BARS is Vegetarian Friendly, rich in essential amino acids and delivers unrivalled texture and softness to high protein bars over shelf life.
Super Stable Formulation for an Exceptional Sensory Experience
53% reduction in hardness
A 30% mixed protein bar containing Optipep at 7% inclusion is 53% less hard than the control at 12 months.
We commissioned a clinical study to investigate the metabolic and performance effects of differing nutritional strategies for this type of workout routine.
52% reduction in chewiness
A 30% mixed protein bar containing Optipep at 7% inclusion is 52% less chewy than the control at 12 months.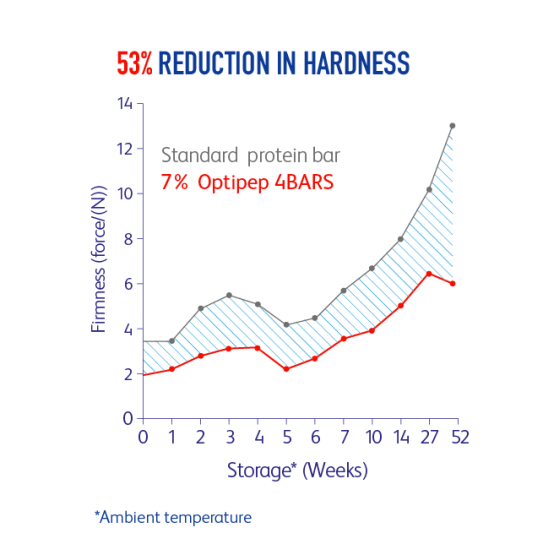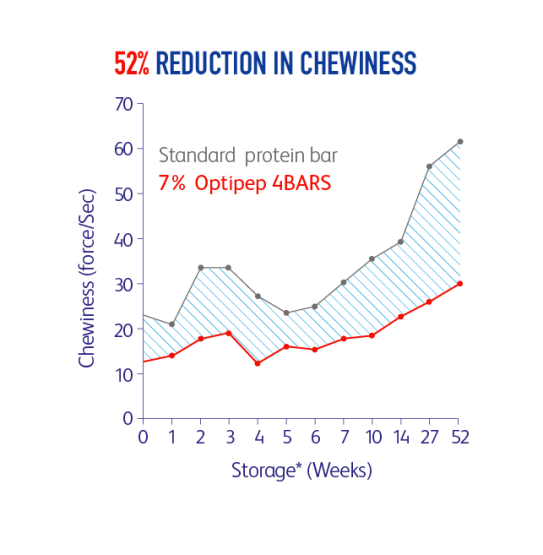 Benefits & Features
Overcomes water migration issues in the bars to support extended shelf life
Whey protein for enhanced digestibility and faster absorption
High quality protein containing all 9 essential amino acids
Maintains softness and texture throughout shelf life
Neutral taste profile compatible with a wide variety of flavours
Brochure Download
Find out more – download our Optipep® 4Bars Brochure including a model bar recipe.
Download
Our experts in protein research, process technology, applications, and marketing are here to support, accelerate and optimise your product development to position you for a successful launch.
A Leading International Sustainable Business