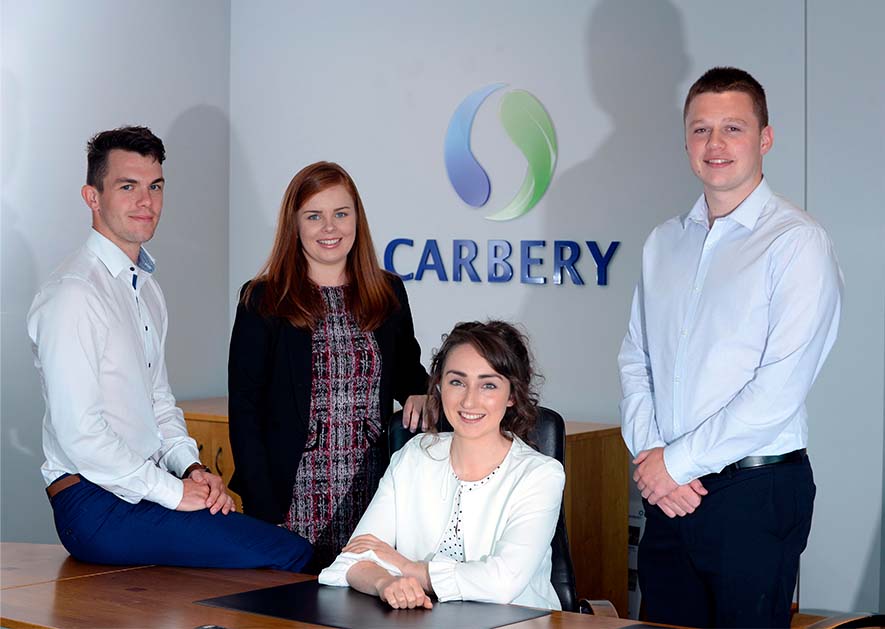 Carbery Graduate Programme
Shape your future, shape our future, and let's grow together
Would you like to work for a progressive Irish company with global operations, exciting growth plans and sustainability at the heart of how we do business? If so, our two-year Carbery Graduate Programme is for you.
We offer a stimulating blend of training, development and experience that will build your competences, develop your thinking and enhance your future leadership potential. We place great value on our graduates' energy and vision and involve them in all aspects of our business from day one. Apply online today, and let's grow together.
The Carbery Graduate Programme opens for applications on 28th October 2022
Hear directly from some of our previous graduates about their experience on our programme
David
Research Development
Carbery is full of hard-working, creative and highly motivated people who have a real passion and pride in the quality food and ingredients they produce.

Being part of the Carbery Group means being motivated, brave and decisive and it's this bravery that has made Carbery what it is today.

Ciara
Production Planning
I felt valued from day one, even before I had been chosen or the Graduate Programme and this is due to the excellent company culture that was evident throughout the entire process.

Being chosen gave me a great sense of achievement and I am looking forward to building on my theoretical knowledge whilst also gaining practical experience.

Avril
Production (Cheese)
I began my journey with Carbery Group in 2018 when I commenced my 3rd year work placement in Quality. My journey continued in 2019 when I was given the opportunity to complete my final year project with Carbery.

Under fantastic guidance, surrounded by years of experience and enclosed within a joyful team, my project was completed to a very high standard. I am excited to continue growing with Carbery.

I was initially drawn to the Carbery Graduate Programme as it offers a great mix of structured training and industry exposure with an innovative and progressive Irish company. The selection process was detailed and informative.

I hope to develop my skills and knowledge within a growing business and take on roles that require more responsibility and leadership.

Frequently Asked Questions
Who can apply to the Graduate Programme?
We accept students from lots of different academic backgrounds. You can apply if you will attain at least a 2.1 Level 8 Honours degree in:
Food Science
Nutrition
Process Engineering
Industrial Biochemistry
If you are interested in Carbery but have a different background to those listed above, come and talk to us anyway. We'll let you know if you can be a good fit.
When can I apply?
Applications for the 2023 Graduate Programme open on 28 October 2022.
When will applications close?
Applications close on 18 November 2022.
When does the Graduate Programme start?
The Programme begins in September 2023.
How long is the Graduate Programme?
The Graduate Programme is two years.
What is the selection process?
Apply online via our website
CVs are screened by our HR function.
Complete online assessments (including aptitude / ability tests and personality questionnaire).
Successful candidates will attend a 1st interview.
Successful candidates will attend the final recruitment event in November/December. This stage will include an interview and presentation.
When will offers be made?
Offers will be made to successful candidates in December 2022.
If I am invited to the final recruitment event but can't make the day, what should I do?
Unfortunately, there is only one such recruitment event for the Graduate Programme each year.
What training and development can I expect whilst on the programme?
We offer a blended approach to training and development providing our graduates with a comprehensive experience of our business and so helping prepare them to fill future, challenging leadership roles.
Elements of this programme will include:
Initial Induction;
On the job training;
Job Rotation;
Formal courses (providing skills development in communications, teamwork, problem-solving and business excellence)
Mentoring.
What do we expect of our graduates?
Apart from academic achievement, Carbery is interested in graduates who are focused and self-motivated with a can-do attitude and a questioning mind. Those who succeed with us demonstrate sound problem-solving skills, effective communication skills and an ability to succeed in a strong team environment.
We are looking for people at Carbery who like to jump straight in, put their hand up to try new things, and aren't intimidated by having some responsibility and making an impact in their roles from day 1.
What will I be doing?
We know that, as a graduate joining our business, you won't have all the answers and that's OK with us. Our Graduate Programme is designed to provide you with the skills (both behavioural and technical) and supports needed to help you flourish at Carbery.
You will have an opportunity to have a real impact on our business. Check out our graduates stories to find out more about the opportunities available.
What happens at the end of the programme?
Carbery is an expanding business with a strong global presence in the food ingredients, flavours and cheese sectors. We take time to recruit and develop our people in keeping with our value of nurturing talent. Those who succeed on our graduate programme and demonstrate values and behaviours which are important to us will be well prepared to take advantage of the regular job opportunities that arise and the challenging leadership roles our business needs.
Tell me more about Carbery Group.
Carbery Group is a global company with almost 900 employees working across 8 different countries around the world. We are a co-operative, meaning that we were established by the farmers of West Cork to provide the best possible return for them and their families on the milk they produce. We have been operating for over 50 years and are wholly owned today by the four West Cork co-ops – Bandon, Barryroe, Drinagh and Lisavaird.
Our heritage and our co-operative ethos mean that we are clear on our purpose – to ensure a stable and sustainable future for Irish family dairy farms. Everything we do, from the scientists who develop our new products, the cheese graders and quality teams who ensure the highest standard of our products, the workers that manufacture our whey protein, flavours and cheese, to the commercial teams who find new markets and sectors for our products, is done with the aim of ensuring that food production and agriculture can continue to be a viable way of life for the farming families of Ireland.
We are located in the heart of the farming communities we work with, and so this purpose is always top of mind for us. We take our role as a major employer in the area seriously. Carbery has always been progressive; willing to try something new (be that technology, products or marketplaces). Sustainability sits at the very heart of our business, ensuring our approach to our business and the communities in which we operate, are mutually beneficial for each other from a social, economic, and environmental perspective.
What's it like to live or work in West Cork?
West Cork, the start of the Wild Atlantic Way and home to some of the most beautiful scenery, beaches and coastline in the world. Not to mention a world class food culture, and a pace of life driven by the local fishing, farming and business communities. There is no better part of Ireland to spend some time in. Our location means you have the best of West Cork at your doorstep, and we are also a very manageable 45-minute commute (going in the opposite direction to the traffic!) from Cork City.
What's it like to work at Carbery Group?
For graduates, people starting out on their careers, the experience you will get at Carbery will set you on a successful and versatile career path. Our company is growing and expanding, with a wealth of opportunities for graduates who are interested, engaged and ready to contribute. However, despite the range of experiences available, Carbery is not a place you will get lost or overlooked. We favour providing people with hands-on, direct on the job experience, and so you will contribute immediately in a meaningful and interesting way to the goals and objectives of the organisation. We offer a programme that's interactive and hands-on with a global dimension that gives graduates a broad perspective of our business.
It's an exciting time to join our company, we are just completing a €78m expansion project to diversify what we produce, expand our export markets and our customer base. Food industry and agribusiness has never been more important, as we have seen with the emphasis placed on ensuring continuing functioning of the food supply chain throughout Brexit and now Covid. People who are passionate about food production, agriculture, sustainability and supporting Irish farming and who want to spend their time with busy, varied and meaningful work – that's who we are looking for.