Climate neutral dairy farm project based in West Cork gets €2m funding boost from SFI competition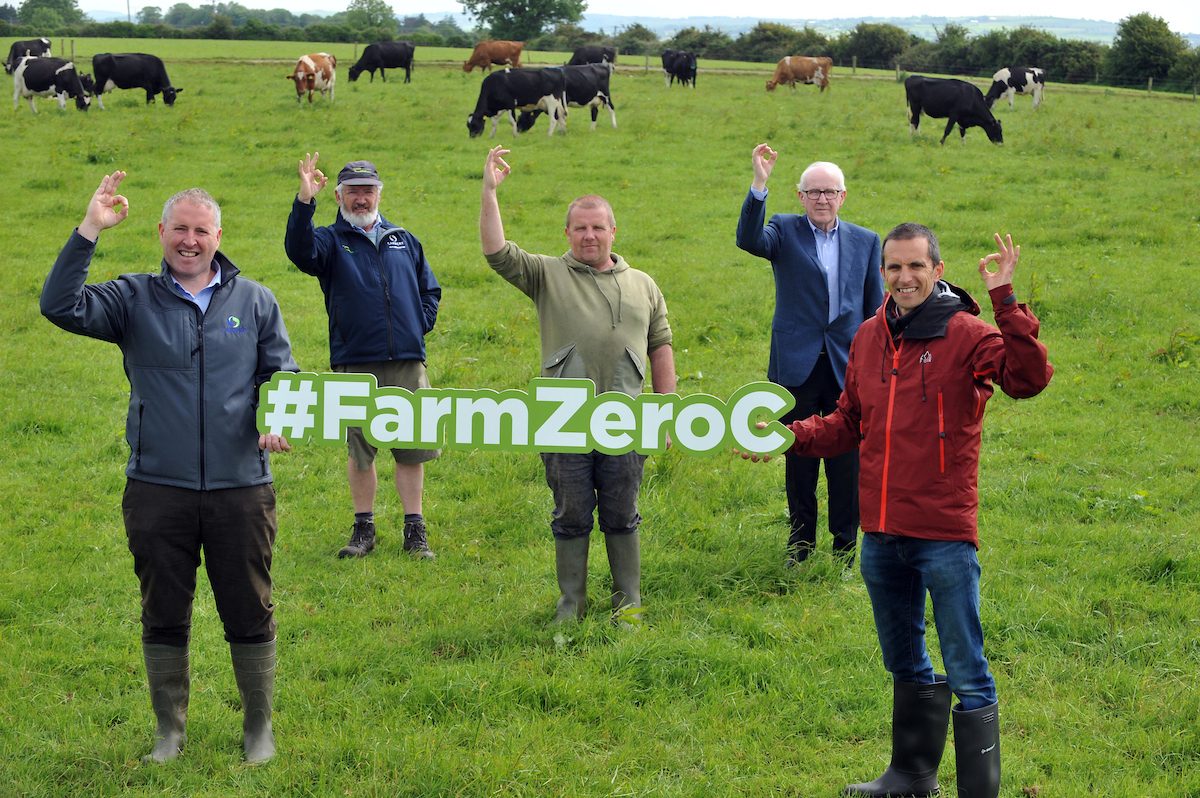 Carbery Group, the West Cork based dairy co-op are delighted to announce the partnership they are leading has won the Science Foundation Ireland zero emissions challenge with their Farm Zero C project. Farm Zero C is a project to create a climate neutral dairy farm. Carbery, along with their partners BiOrbic, have been trialling various approaches to reduce emissions on Shinagh Farm, a heavily stocked 200 acre dairy farm, owned by the four West Cork co-ops of Bandon, Barryroe, Drinagh and Lisavaird.
Carbery Group CEO Jason Hawkins explained
"Sustainability is one of our core business priorities at Carbery and has been for a long time. Our primary focus has been on reducing emissions from our production facilities. But we also want to work in partnership with our farmer suppliers to address the issue of on farm emissions. This is why Farm Zero C is such an important project for us – our mission is to create a sustainable future for dairy farming in West Cork, but with an emphasis on practical – the solutions we find have to be implementable for the average Irish family farm. With this project and this funding, we are confident that we can achieve that."
The project brings together a group of academic and industry experts in a world-first attempt to come up with a farm-level solution for a global problem. The interdisciplinary programme of work is targeting soil and grassland; animal diet and breeding; biodiversity; life cycle analysis; and renewable energy. It is also considering business models and planning to ensure all proposed interventions are commercially viable, and looking at the potential for carbon trading to be integrated within a low emission farm model.
Shinagh Farm, owned by the four West Cork co-ops, is the site of the project. The farm is an intensive, highly stocked commercial farm which will allow the project team to prove that a new sustainable business model for farming is possible: if it can be done at Shinagh, it can be widely applied anywhere. The changes will be implemented on the farm and evaluated and compared with benchmark data to evaluate the impact each step can make in reducing emissions.
Enda Buckley, Director of Sustainability at Carbery and co-chair of the project team, explains "This funding means we can trial more approaches and technology, bring new people onto the project, and create a model that could be applicable not just in Cork, or Ireland, but across the world on dairy farms and other farms."
And the project is also a boost for West Cork employment. A project manager and a farm researcher will be hired, both based on Shinagh Farm. A team of academic researchers is also being put together. Enda explains "Our next priority, as soon as the funding we've won is approved, is to get our team up and running on the ground in Shinagh. Very soon after that, Covid-restriction permitting, we want to start to bring West Cork farmers in to see what's happening in Shinagh and what they can start to apply themselves".
Cormac O'Keeffe, newly appointed Chair of Carbery, knows first-hand that farmers are actively looking for guidance on how to farm more sustainably
"We know the interest in sustainability is there from farmers – the Carbery Greener Dairy Farmers programme, which I'm a member of myself, has been running since 2012 and is a precursor to Farm Zero C in many ways. Now that the funding is in place, we are looking forward to sharing with the farmers of the four West Cork co-ops, with our partners, and our customers, what is possible for the future of agriculture when scientists and farmers collaborate together. I want to thank the Carbery Board who have been very supportive of this project over the last 18 months and continue to be."
Enda continues "A third of Ireland's greenhouse gas emissions currently come from the agriculture sector so there is an urgent need to reduce emissions produced by farming, while not impacting production or profitability, to ensure a secure future for Irish farming and farming globally. We think our project could be a huge step in the right direction to address this challenge, while safeguarding the future of farming. The whole team would like to thank Science Foundation Ireland for their confidence in our project and we look forward to continuing to work with them to achieve our goal.
Activity underway at Shinagh since last year includes planting multi species swards to gather evidence that grassland and better soil management can help absorb carbon. Other activities that happened throughout 2020 included extensive habitat mapping of the farm, and soil carbon levels have been measured throughout the farm.
Farm Zero C is a collaboration between the following industry and academic institutions: Carbery Group, BiOrbic, UCD, Trinity College Dublin, MTU Kerry, Grassa and Teagasc
You can follow along with project updates on our blog: Farm Zero C – Carbery
company news