Barryroe Co-op finalists The Deasy family take home overall award at the 19th Carbery Milk Quality and Sustainability Awards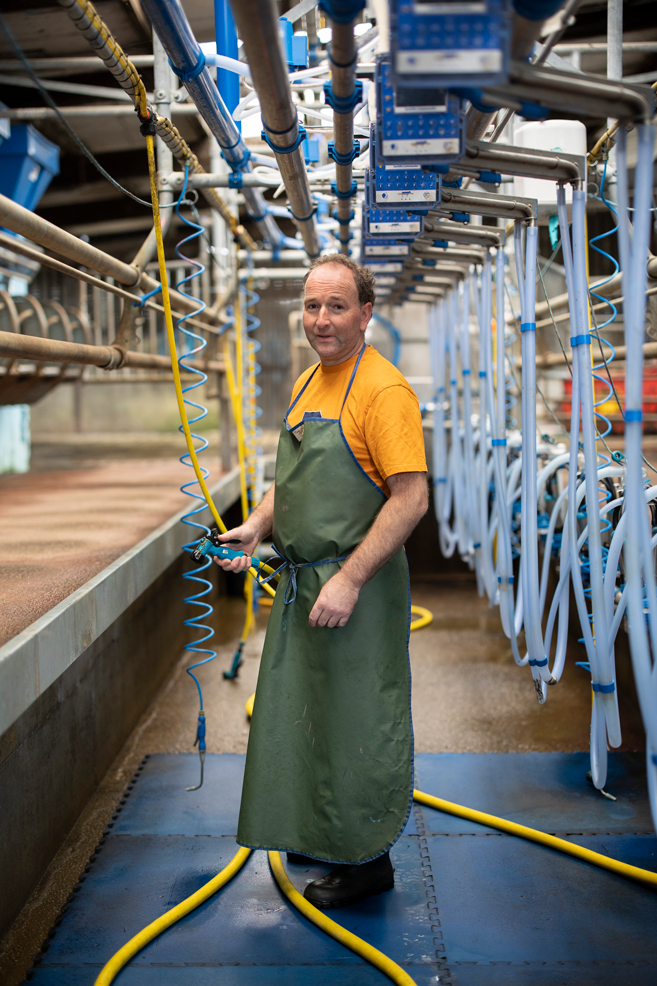 West Cork, Thursday 9 November: Seán Deasy, farming in Ahafore, Timoleague, is the overall winner of the 2023 Carbery Milk Quality and Sustainability Awards. A member of Barryroe Co-op Seán is milking 80 cows and farming 80 acres with his family, wife Fiona and their daughters Gemma, 16 and Mia, 13. 
Seán is farming just outside Timoleague, about a mile from the sea, on land that his grandfather bought 100 years ago. He's the third generation to farm it. His grandfather Daniel Deasy, who had emigrated to America and was home on holidays in 1922, went to an auction to buy a plough for his brother and came home with the farm! Seán took over from his late father Donal in 1996. His mother Anna lives on the farm in the original farmhouse and is always available for support and a cup of tea.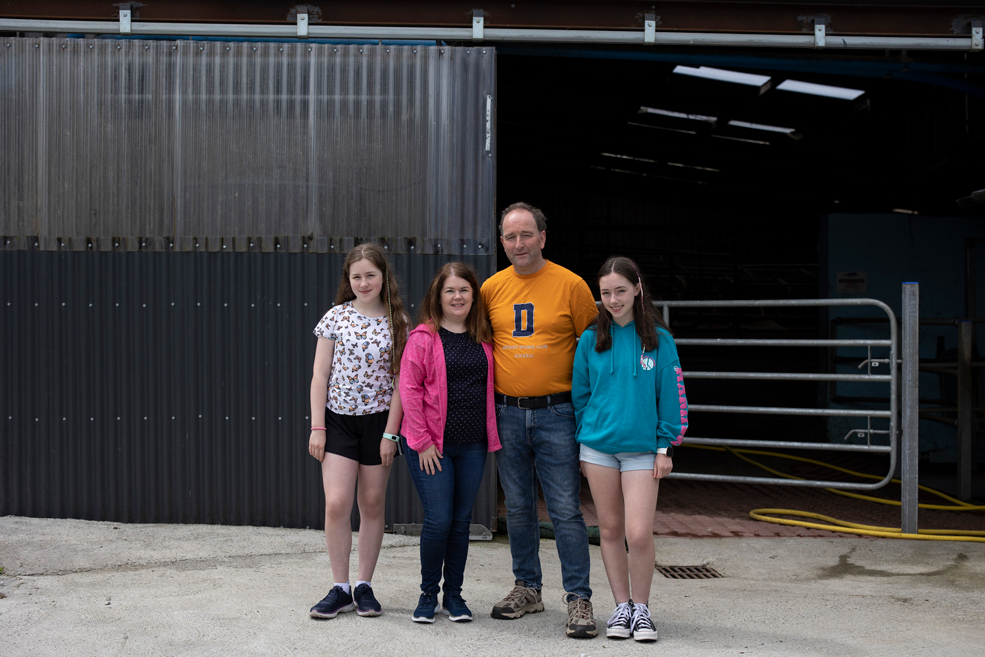 Sean achieved 509kg of milk solids per cow in 2022 and he credits the quality he achieves to consistency. He's been milk recording for more than 30 years and uses the Barryroe Co-op app to spot any problems early. He is an early adopter of new approaches and technology, and this has led to many changes, including reseeding with clover, not spraying weeds too often and reducing his fertiliser application by half in the last 10 years.

Seán has been an active participant in many farmer discussion groups over the years, and credits much of his knowledge to his early exposure to the contacts and ideas within these groups. He has been a member of the Carbery /Teagasc Joint programme in the past, the local Grass10 group, his local discussion group and the Carbery Greener Dairy Farmers. He completed the Diploma in Environmental Sustainability with UCC, a joint initiative between Carbery and the university which allows farmers to use retroactive learning to apply what they have learned through the Greener Dairy Farmers programme towards a diploma. He is currently a member of the Barryroe Co-op board.
Seán strongly believes that farming and Irish farmers have a great story to tell; "People have old-fashioned perceptions about farmers which I think need to be challenged. Farmers are always looking forward to what they can do better. We are very qualified, we know a lot about the environment and if we are not going to be custodians of the land, who is?" He believes that younger farmers need to be supported and encouraged into farming and take advantage of the benefits of the life, including flexibility and opportunities for gaining knowledge and partnerships.
Jason Hawkins, Carbery CEO, said of the finalists "We know that our farmer shareholders are committed, progressive and environmentally minded. These Awards are about showcasing the calibre and standard of Irish dairy farmers to our customers, partners and the wider community. With each year of these Awards, we are creating ambassadors for the sector and for what we do. Promoting and protecting Irish family farming will always be the key objective of Carbery. In Seán Deasy, our overall winner, and in all of our finalists, we are showcasing our quality credentials and our reputation for sustainable farming through our farmer shareholders."
Carbery Group Chairman, Cormac O'Keeffe added "Irish dairy is made up of thousands of farming families, all working incredibly hard every single day of the year to produce the highest quality, sustainable milk. These families are committed to the highest standards of quality and animal welfare, protecting land handed down through generations, all while producing milk sustainably and responsibly. We within the industry know how many heroes there are within Irish dairy, and it is a privilege to be able to showcase just some of them to a wider audience every year. Farming can be a thankless job, especially in the current climate with cost, and environmental pressures stacking up. These farming families set the standards and tell the story we want to show to the world about Irish dairy".
The judges for this year's competition, Paddy Barrett , Carbery Quality Director, Aoife Healy, Farm Sustainability Manager, and John McNamara, Teagasc Cork West, noted the high standard on all farms this year, and in particular the effort in consistency and hygiene, the use of data and technology to monitor results, and commitment to quality and the integration of sustainable farming practices.
Owned by farming families, Carbery Group processed 598 million litres of milk in 2022, to produce award-winning cheeses and food ingredients in Ballineen, and flavours internationally, which were sold in over 50 international markets across the world.
There were three excellent finalists from each West Cork Coop (Bandon, Barryroe, Lisavaird and Drinagh) for the Milk Quality and Sustainability Award and the full list of finalists and winners is below. Carbery would like to congratulate all of the finalists.
Bandon Coop
The Murphy family, Garraha, Kinsale
The Murphy family, Hollyhill, Kinsale
The Falvey family, Curranure, Innishannon – Bandon Co-op winner
Barryroe Coop
Tim Crowley and farm manager Darren Keohane, Ballyhander, Ballinspittle
The Deasy family, Ahafore, Timoleague – Barryroe Co-op winner and overall winner
The Burke family, Ballycatten, Timoleague
Drinagh Coop
The Lynch family, Coolnaclehy, Skibbereen – Drinagh Co-op winner
The Deane family, Bunalun, Sklibbereen
Ann Kingston and farm manager Pat O'Regan, Ferlihanes, Rossmore
Lisavaird Coop
The Walsh family, Keel North, Enniskeane – Lisavaird Co-op winner
Donal and Tim McCarthy and farm manager Jim Duggan, Casheliskey, Clonakilty
The Hurley family, Cahir, Lyre
company news