Carbery Group reports 23% increase in 2017 turnover to €417 million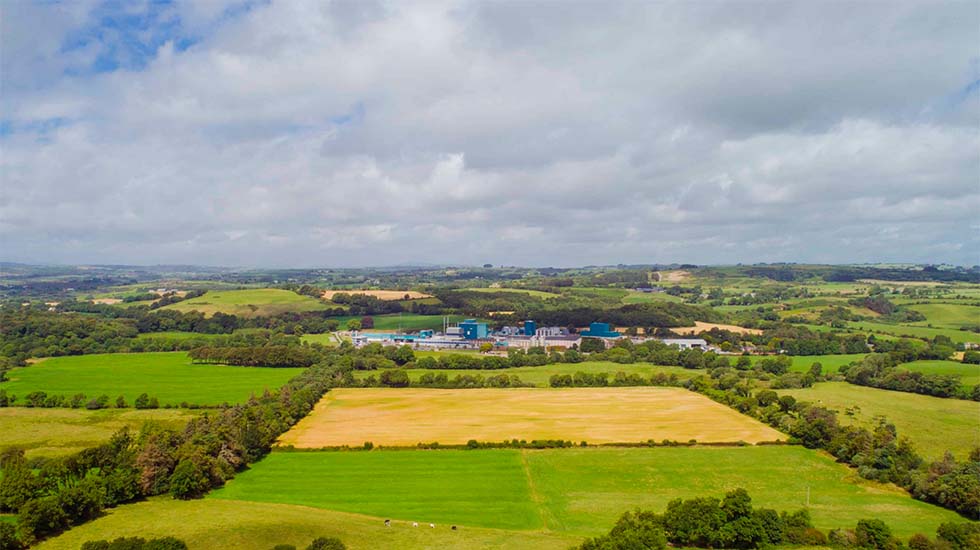 Carbery Group, the West Cork based international ingredients company, has reported a strong financial performance for the year ended 31 December 2017.
Group turnover for the year was up 22.7% to €417.3 million from €340.0 million in the previous year. EBITDA (earnings before interest, tax, depreciation and amortisation), increased to €41.8 million, up from €37.0 million in 2016, and the Group is reporting increased EBITA (operating profit before interest, tax, amortisation and exceptional items) of €31.0 million (2016: €27.1 million).
Jason Hawkins, Chief Executive Officer, Carbery Group said that the positive results were achieved as a result of strong trading performance across all three of Carbery's strategic business platforms of Dairy, Nutrition and Taste. "Our Dairy business performed well on the back of strong dairy markets and continuing growth in our milk supply. Carbery's Nutritional Ingredients platform continued to drive growth across new products, customers and markets, and Synergy, our international Taste business, once again delivered a very strong performance with growth across all key markets," he said.
Mr. Hawkins noted that, as a result of very strong dairy markets and a good business performance, Carbery was able to continue to pay a leading milk price to its supplier shareholders during 2017. In addition, at the year end, the Board declared a 1 cent per litre bonus for 2017 milk.
Supplies of milk to Carbery's processing facility in Ballineen increased by 8.2% to 509 million litres in 2017, and are up 28% since the removal of quotas. Mr. Hawkins also commented that "the Carbery Board allocated €10 million into its Stability Fund at year end to support future milk prices during times of price volatility."
During 2017 Carbery invested a further €17.1 million across its global operations. This brings investment in the business over the past five years to a total of €80 million.
Carbery Group's net debt position at 31 December 2017 was reduced to €12.7 million (2016: €26.2 million). See Five Year Financial Review below.
Dairy Business
Carbery's dairy business performed well in 2017 with steady growth experienced in its cheese business, supported by its partnership with Ornua.
Whilst noting that Brexit is a significant concern, particularly for Carbery's cheese business given the importance of the UK market for Irish cheddar, Mr. Hawkins said: "We have a Brexit working team evaluating and preparing for all scenarios under either a soft or hard Brexit. We are also working closely with Irish governmental and industry bodies to ensure the potential implications of Brexit are understood and that we, and the dairy industry, are supported."
Carbery launched its fourth fixed milk price scheme for its milk suppliers in December 2017. These schemes continue to offer some income stability in a volatile dairy market.
Nutrition Business
Carbery's nutrition business, which includes a broad range of protein products, performed very well in 2017, driven by ongoing organic volume growth and the development of new markets. Continued investment in Research and Development has enabled the launch of a range of specialised nutritional ingredients for the infant and sports nutrition markets, with a particular focus on Asia and North America. Mr. Hawkins stated that Carbery's Nutrition team is very focused on the development of new valued added technologies and markets.
Taste Business – Synergy
Synergy, Carbery Group's international taste division, is a leading supplier of flavourings, extracts and essences. It supplies customers around the globe from operations in Europe, North America, South America and Asia.
Innovation is central to the Synergy growth platform noted Mr. Hawkins, adding that the team is focused on investing in and delivering innovative Taste technologies to support Carbery's global customer base.
The business once again delivered strong results in 2017, continuing to create value for Carbery shareholders.
Mr. Hawkins said that the global Synergy team is well equipped to continue to drive organic growth and value for shareholders while also being well positioned to take advantage of any acquisition opportunities that will further enhance the Group's Taste platform.
Looking to the future
Commenting on the market outlook for 2018, Jason Hawkins said that Carbery Group is well positioned to continue to build upon the strong performance achieved in 2017.
"Dairy markets will prove more challenging for our dairy business and milk suppliers in 2018, particularly if EU supply growth continues at recent levels. We currently have our stability fund in place to support potentially volatile and weakened markets. At the same time the management team will continue to manage dairy commodity risk across the business. I am optimistic that longer term dairy demand is healthy and that Carbery will continue to create value for our shareholders through investment in research and development, new product opportunities and facility expansion to cater for planned growth," he concluded.
company news