Professional Ingredients for Food Service
Designed to meet the needs of the demanding food service industry, The Professional Range draws on the creative and practical expertise of our chefs, who work in close collaboration with our customers to deliver solutions that make a positive impact in professional kitchens.
Our research and development teams, cheese makers and chefs closely follow consumer trends around the world to help them develop new recipes to meet the needs of food service professionals.
Our cheese has been developed for an ever-widening range of applications, from meals and sauces to bakery and pizza. With a strong breadth of flavour profiles and high levels of functionality, our range has something for every chef.
Understanding Food Service
We test our cheeses in multiple applications and put them to the test in real-life food service settings to ensure they perform well under different cooking and baking conditions.
We work across a range of different industry standard equipment, including Midleby Marshall, Lincoln Impinger, Deck Oven, Combi Oven and Wood Fire Ovens, to make sure our solutions are relevant and work effectively in real-world professional kitchens.
Partnering with our Customers
Our state-of-the-art Development Kitchen at our global headquarters in Cork, Ireland is equipped with high tech camera and recording equipment, which allows us to work with our customers both virtually and in person to create tailored solutions that meet their specific needs.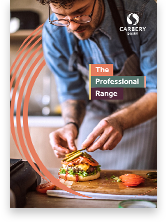 Brochure Download
Download The Professional Range brochure now
Download
When you partner with us you have access to our experts in cheese research and development, along with experienced cheese makers and graders, culinary experts and marketing support to help accelerate your product development process and ensure a successful launch.
Owen Murtagh
Culinary Specialist
A Leading International Sustainable Business